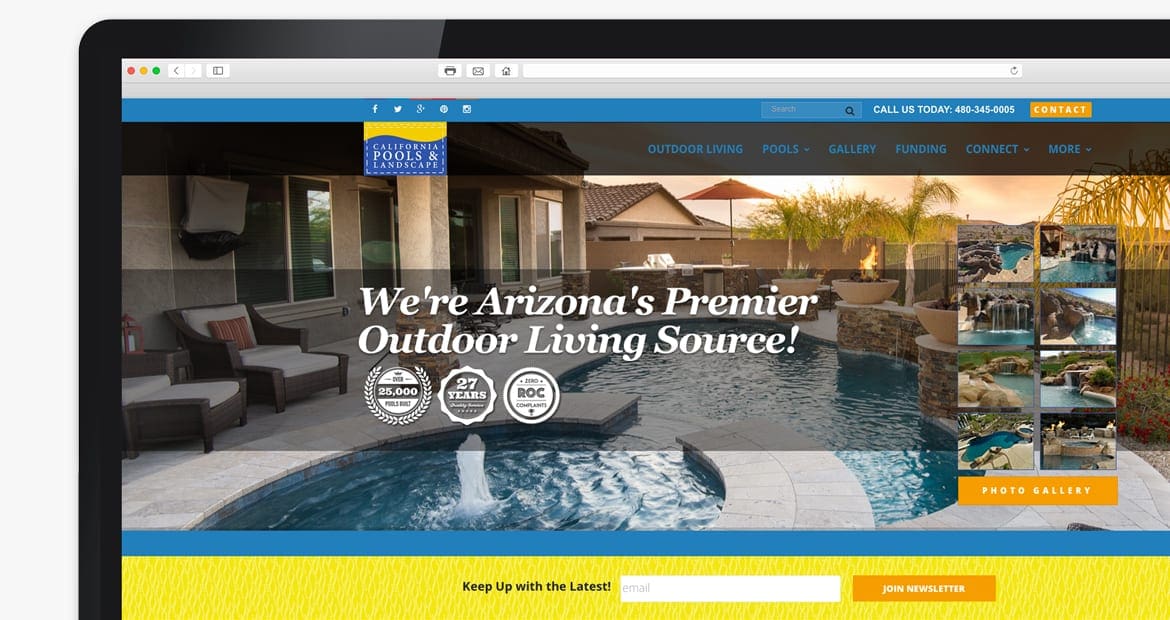 A picture is worth a thousand words – 

Fred R. Barnard, 1921
A picture may in fact be worth a thousand words, but what would those thousand words say if they were spoken about your brand image? There is a fine art to bringing a great brand to life and having it tell the desired story.
California Pools & Landscape is a landmark Arizona company. They have 30 plus years in business, they've built over 25,000 pools without a single ROC complaint, and were awarded the BBB's Ethics Award in 2014. There is little doubt about their position as Arizona's premier pool builder, however, there was some doubt about their brand image being current and representing them well.
We are able to bring their brand up to speed without skipping a beat, they didn't need a complete overhaul. Just a fresh new feel while maintaining their great familiarity. By giving their logo a flat look and removing the texture, it became savvy and confident. We also developed trust badges that tell the facts and lend themselves the overall brand narrative.
Their website was rebuilt from the ground up. Bold solid colors contrasted by stylish flat textures compliment large full width imagery of their amazing work. The overall effect is a perfect showcase of their brand and services that engage in a way that draw you in to their iconic look. Structurally, we approached the website structure from a completely different angle. By examining California Pools & Landscape's primary revenue steams, we were able to create content and look that drives traffic directly into the many conversion options.
Is your brand ready for the modern marketplace?